Downloads
Our Latest Catalog Full color catalog featuring a wide array of our products and capabilities. (Note: 4MB download, please be patient)
Our Company Profile Article from New England Printer & Publisher, January 2003.
(Note: 2MB download, please be patient)
Log, Lumber & Sawmill Tag Flyer A one page flyer with additional images and information regarding log, sawmill and lumber tags.
Raptor® Troubleshooting Guide If you're having problems with your Stapler or Staples, this troubleshooting guide may solve the problem for you.
Generic Log & Bundle Tags Flyer A one page price list of our in-stock log & bundle tags.

Downloads require free Adobe Acrobat Reader software;
go to: http://www.adobe.com/products/acrobat/readermain.html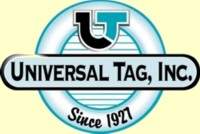 Universal Tag, Inc.
Toll Free: 1-800-332-8247
Phone: 508-949-2411 - Fax: 508-943-0185
36 Hall Road - P.O. Box 1518
Dudley, MA 01571-1518

©2023 Universal Tag, Inc. - All Rights Reserved