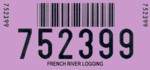 DIGESTIBLE LOG TAGS
To Comply With Kraft Pulp Mill Residue Restrictions in Your Wood Waste Chips
Digestible log tags are designed to be completely acceptable by kraft pulp mills when mixed in with your sawmill's waste chips. This means that you don't have to spend valuable time removing tags from log ends before they are milled. Simply scan the barcode on the tag or record the number for your records before processing and leave the tag attached to the log.
What's the Difference Between Repulpable & Digestible Log Tags?
Both types of tags are made of the same 'wet strength' paper fiber base material, but the digestible log tags contain a special clear film overlamination on the front and/or back of the tag too. We typically recommend this type of tag if your sawlogs are kept under water or if they will be left in the log yard for extended periods of time...up to 9 months.
Digestible Film Overlaminated for Protection
This special film provides protection to the printed image, consecutive barcode and numbers. It is specially formulated to dissolve during the kraft process without leaving any residue in the pulp. So no matter what the weather and conditions...rain, snow, mud, dirt, dust...you can rest assured that the integrity of you barcodes and numbers are completely protected. If needed, simply wipe off the surface of the log tag to remove any residue and you'll be able to scan the barcode without fail.
Examples of Custom Printed Digestible Log Tags We Have Made

---

1-Part Digestible Log Tag
Size: 1 3/4" x 3 3/4"
(Click Image for Larger View)


2-Part Digestible Log Tag
Size: 2 5/8" x 3 3/4"
(Click Image for Larger View)


3-Part Digestible Log Tag
Size: 3 3/4" x 3 3/4"
(Click Image for Larger View)


We Offer Two Digestible Base Materials to Choose From:
10pt Wet Strength

- economically priced but rather thin at 0.010" thick with a shorter lifespan

13pt Wet Strength

- more durable and heavier at 0.013" thick
Every Order is Custom Made So You Have Several Options to Choose
Select from one of our many standard sizes or create your own custom size
1-part, 2-part, 3-part and other configurations can be made
Overlaminated front only or front & back for ultimate protection and longevity
Cut singles and boxed
Put up in rolls on a core for easy dispensing
Add a colored background, boxes, or stripes for easy identification
Consecutive jumbo numbers for visibility
Matching consecutive barcodes work with your existing data system
Barcodes can include prefixes, suffixes, security check digits and special encodings
Add your company name and logo, phone number, email, web address or whatever
When You're Ready to Begin Your Tagging Program
Just give us a call, fax, or email and we'll be happy to help. Don't worry about all the details, we'll ask you all the right questions to make sure you get just the digestible log tag you need. Once we know what you need, we'll make a layout of your log tag and fax or email you a proof so you can see exactly what your tag will look like. Then you can make any changes or adjustments necessary before we actually make your tags.
And don't forget to order our Raptor® Plastic Staples and matching Hammertacker or Staple Gun for easy attachment to your saw logs.
Our Promise to You
And don't worry, we've been making tags for over 80 years and we stand behind our products. If there is ever a problem with your order, let us know and we promise to make it right!