Contact Us
Universal Tag, Inc.
36 Hall Rd - P.O. Box 1518
Dudley, MA 01571-1518

Toll Free: 800-332-8247
Phone: 508-949-2411
Fax: 508-943-0185


Directions to Our Main Facility

From the Massachusetts turnpike (east or west) take exit 10 (Auburn) and follow signs for Rt. 395 South.

Stay on Rt. 395 to exit 2 (Rt. 16 Webster) and bear right at the end of the ramp.
Go straight thru the first set of lights onto Rt. 12 South (Cranston Printworks is on your right).

Follow Rt. 12 thru downtown Webster (several traffic lights and zig zags thru town, just watch for the Rt. 12 South signs).

Once thru the center of Webster you will cross over the French River and see the entering Dudley sign.

At the next set of lights, go straight onto Rt. 197 (This is beginning of Rt. 197 and Rite Aid Pharmacy is on your left).

Follow Rt. 197 for about 3 miles. (You will go thru one more set of lights at the Cumberland Farms on your right).

Keep going straight on Rt. 197 and you will come to a Dunkin Donuts on your left.

You will also see the Dudley District Courthouse on your left just past Dunkin Donuts.
Turn RIGHT onto Hall Road (we have a big UNIVERSAL TAG sign at the corner), and take the first left into our parking lot.

Hint: If you drive past the Dudley District Courthouse, then you drove past us too! We are directly across the street from them.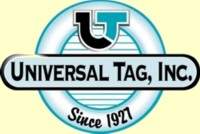 Universal Tag, Inc.
Toll Free: 1-800-332-8247
Phone: 508-949-2411 - Fax: 508-943-0185
36 Hall Road - P.O. Box 1518
Dudley, MA 01571-1518

©2023 Universal Tag, Inc. - All Rights Reserved